Mobile Homes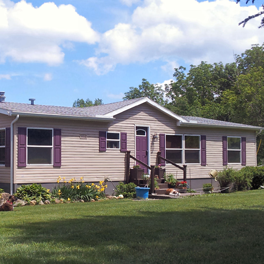 Mobile homes are an economical housing solution that have evolved from trailers and are now longer, heavier and more rigidly constructed. Because they are seldom moved once placed on a property, as much planning should go into the installation of a mobile home as would be needed for a site built home.
All mobile homes shall conform in all respects to the CAN/CSA-Z240 MH Series of Standards and shall be complete structurally with the entire plumbing, electrical and heating services installed.
The following information shall be marked in English in a permanent and readily visible manner in the interior of the mobile home:
Manufacturer's name and address
Model
Serial number
Year of manufacture
Gross vehicle weight rating (GVWR)
Ground snow load and roof design snow load
Design wind pressures without anchorage
CSA number
Permit Application Requirements
Please ensure you have all the following required documents and information for permit application. Only complete applications will be accepted for processing.
Name, address and contact information of the property owner and contractor.
Name, address and contact information of the registered owner of the mobile home, if different from the property owner.
Legal description and address of the property.
Site plan showing the location and dimensions of the proposed mobile home. Setback requirements are to be measured from building extremities. The location of all other structures on the property must be shown.
Floor plan of the mobile home showing all dimensions.
Make, model and CSA registration number.
Accurate footing (pier foundation) plan.
Brochures
Requirements
Site Plan Site Plan - A site plan is a bird's eye view of a property that is typically drawn to scale. A site plan should include:

All Property lines, plus their dimensions
Outline of existing and proposed buildings and structures with dimensions including accessory structures
Distance between all buildings (eave to eave)
Distance between proposed structure and property lines (setbacks) to wall
Easements (if applicable) found on your status of title
Parking lots, indicating parking spaces (commercial only)
Driveways
North Arrow
Surrounding streets
Landscaped areas (commercial only)
Well and Septic Field Locations

2 copies of floor plan / blocking plan with layout
Status of Title (current within 30 days of application)

Status of Title - Our office requires a current copy of your status of title before any building or structure may be placed on the property. The status of title must be current within 30 days of making application and can be obtained from the Winnipeg Land Titles Office at 276 Portage Avenue, Winnipeg MB or by calling 1-844-737-5684.

Residential Application Review Fee of $150

Plan Review Fee - A plan review fee must accompany all applications. Residential and Commercial Plan Review fees will be applied against the final cost of the permit upon issuance. Plan Review fees are non-refundable. If the permit has not been issued within 6 (six) months of application date, the application is void. Payment options are debit, cheque or cash.

Letter of Authorization (Required if someone is filling out the application on behalf of the owner) Letter of Authorization - An authorization letter gives a third party permission to act on the owners behalf. In the event that the owner is not making the permit application, the owner will need to draft a letter providing the name of the persons authorized to make application for required development permit for proposed work to be completed. Letter must be signed and dated.