Mobile Homes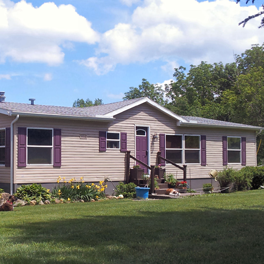 Mobile homes are an economical housing solution that have evolved from trailers and are now longer, heavier and more rigidly constructed. Because they are seldom moved once placed on a property, as much planning should go into the installation of a mobile home as would be needed for a site built home.
All mobile homes shall conform in all respects to the CAN/CSA-Z240 MH Series of Standards and shall be complete structurally with the entire plumbing, electrical and heating services installed.
The following information shall be marked in English in a permanent and readily visible manner in the interior of the mobile home:
Manufacturer's name and address
Model
Serial number
Year of manufacture
Gross vehicle weight rating (GVWR)
Ground snow load and roof design snow load
Design wind pressures without anchorage
CSA number
Permit Application Requirements
Please ensure you have all the following required documents and information for permit application. Only complete applications will be accepted for processing.
Name, address and contact information of the property owner and contractor.
Name, address and contact information of the registered owner of the mobile home, if different from the property owner.
Legal description and address of the property.
Site plan showing the location and dimensions of the proposed mobile home. Setback requirements are to be measured from building extremities. The location of all other structures on the property must be shown.
Floor plan of the mobile home showing all dimensions.
Make, model and CSA registration number.
Accurate footing (pier foundation) plan.
Brochures
Requirements
Site Plan

2 copies of floor plan / blocking plan with layout

Status of Title (current within 30 days of application)

Residential Application Review Fee of $150

Letter of Authorization (Required if someone is filling out the application on behalf of the applicant)